While agile methods are already being deployed in product development, the majority of mid-sized and large companies still use the traditional waterfall model in the development of their business operations.
Business case calculations and business plans are drawn up for the next 3″"5 years, presentations are created and arguments practiced, money is requested and sometimes even received.  But that"™s about it.  Thanks to the typical "˜shoot and forget"™ mentality of upper management, matters are not taken up again until years later "" if at all.
Might it be time for leaner business cases?  
Anticipating uncertainties
Predicting the future is a difficult business, yet business cases are often about the prediction of future profits.
Many things can go wrong in forecasts for new business, so let"™s focus on the most common stumbling stones:
We miscalculate needs, and there is no customer interest "" our service does not take off.

We overestimate the size and/or maturity of the market, and sales drag behind expectations.

We overestimate the growth speed of the business: profits accumulate more slowly and expenses more rapidly than expected.
Business tests carried out during development reduce the identified risks and greatest uncertainties fundamentally. We can test all kinds of things: various service versions (to understand customer needs better), business models, pricing models, marketing concepts, etc.  On the basis of what we learn from these tests, we can adjust and direct development and commercialisation activities long before the actual launch.
The size of the market is seldom the root cause of failure. If needs have been identified and tested appropriately, there are usually enough customers. Yet expenses and the speed at which customers"™ interest arises and they begin buying the service are often underestimated. Nearly as often corrective actions are not taken at all or they are done by halves.
One Big Decision or several smaller ones?
Let"™s get back to our business case.
In a waterfall-type business case we would propose a three-year investment, aiming at predicted cumulative profits and a ROI that pleases the management. Most of the parameters for this business case are, even at best, nothing but educated guesses.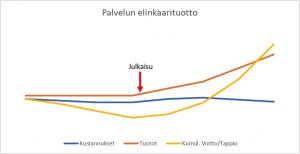 Waterfall-type business case.
Let"™s introduce the short cycles we are familiar with from development operations "" sprints that we continue even after the service has been launched.
Sprints that support decision-making.
Our waterfall has split into a number of trickles "" smaller business decisions "" but, above all, we have several control points. Thanks to more recent and detailed information, uncertainties are fewer, we can make decisions regarding further investments (even reduce the intended investment) and changes of direction (pivot), or even bury the entire service before the launch if the goals are, despite the amendments, not met.  
We actively control the service after its launch during the critical introduction and growth stage, instead of waiting 2″"3 years just to find out (often without a proper analysis) that the goals were not met, after all.
When should decisions be made?
Uncertainty affects the decision cycle. The more uncertain we are, the more business tests and investment decisions are needed. More information translates into fewer uncertainties, implementation can be started, and we can prolong the decision cycle.  
However, we must be prepared to make new decisions, too. As soon as we find out something new about the market, customer needs, competitors or our solutions, it might be necessary to correct the course or make other changes. Changes do not automatically necessitate further investments. The need for self-financing might even be reduced as a result of, for instance, adjusting the business model.  
If we learn nothing new during development, launch and production, there is cause for worry.
Rules of thumb for the decision-making cycle during business cases.
A lean business case calls for bold and active decision-making
Instead of a single large investment decision we make a series of smaller decisions, retaining the ability to react to the environment, make changes and take corrective action. If necessary, we are also prepared to cut funding and run the service down quickly. It is wiser to save the money for another venture than to keep banging our head against the wall.
What was once a harrowing, bloated Excel exercise is now a leaner business case that can be used as a practical tool for controlling and managing business operations. When the time and effort saved is used for active decision-making, the chances of succeeding in new business operations are better.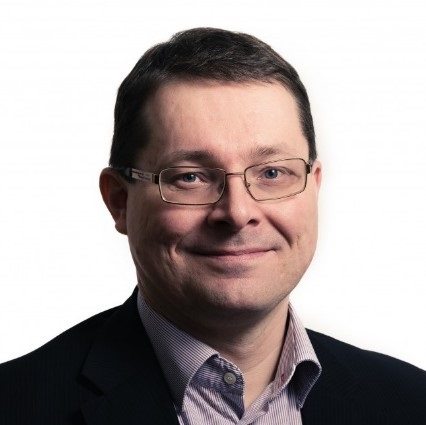 Markku Nurmela
Leading Consultant