Consultant Daniel Zacarias: "Treat your career as you would treat your product!"
Consultant Daniel Zacarias: "Treat your career as you would treat your product!"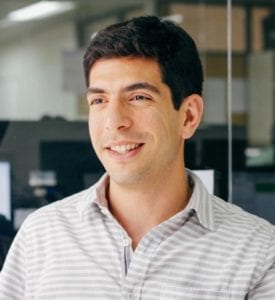 Daniel Zacarias started his career working as an engineer. He studied software engineering at university, and after studies moved slowly from engineering to project management, and from there towards product management.
– I would say that it is a somewhat common path for many Product Managers, Daniel ponders.
Daniel didn't exactly plan a career in product management, but he always knew he wanted to work in this domain. He has always been interested in technology and figuring out what makes it valuable to end users and customers.
– I always wanted to be a part of the conversation and the people that get to figure that out. In the end, that was what led me into management.
Career in the consulting world
After having worked a couple years in product management, Daniel wanted a small change. That's when he decided to join the consulting world.
– I was interested in the opportunity to work with several different teams instead of just my own. I like being able to see multiple realities and help other people achieve their own goals. That really motivates me in my work, Daniel explains.
As a Product Management Consultant Daniel has learned a lot. The biggest lesson so far is that struggles are quite common across industries and companies. Daniel finds that product management is a relatively new profession and therefore needs a lot of maturing and evolving.
– I really think that we need to grow as a community, so that we can get constantly better at product management.
On a mission to help
Daniel's ultimate goal in his career is to deliver efficient product teams and organizations. He wants to help teams and companies get better and find more effective and functional ways of working.
– I want to help my clients create a lot of value for their customers and end users. My aim is to make sure that the people who are in charge of doing that in the future are implementing best practices and are successful.
In Daniel's opinion, a good Product Manager is someone analytical who always looks for the truth behind numbers. That's how you find out what your clients are looking for! It is also important to be able to work with engineers, designers, customers, sales and whoever else they might end up interacting with.
– A good Product Manager has clarity of where the product should go in the future. He is also able to communicate this vision and strategy to his team. A good Product Manager is also constantly looking for the best ways to create value – constantly testing and learning and repeating all of that!
New venture: learning website for Product Managers
In addition to working as consultant, Daniel has started a new venture called Career.pm. It is a website and a program that helps Product Managers have a more strategic look on their careers and create a growing path for their working life.
– We do that by creating a career roadmap for our Product Managers and by providing them with a set of learning resources and tools. We also offer them coaching to track their process and keep them motivated.
It all started with the idea that training alone is not enough and people usually need some guidance on the way.
– We wanted to create something that was personalized and that could generate a lot of value to the participants. Most of the learning sites are not customized at all, so we wanted to change that with ours.
The importance of a planned career path 
During the interview Daniel mentions several times the importance of looking one's career strategically and analyzing what they want to do in the future.
– It is really important to look where you are right now and where you want to go. And then draw a path that leads you to grow as a professional.
He wants to encourage everybody to think and analyze what they are good at – and what they are not – and really try to work on and learn those things. Self-awareness and knowledge of the industry are crucial in assessing yourself and figuring out your own path.
– As a consultant I can help my clients to assess themselves and bring some knowledge of the industry: what are the best practices and what is everybody else doing. Together we can come up with a plan and create a path forward!
Interested in product management? Check out also our blog about product strategies here!