Product Management Is Taking Care of The Company's Competitiveness!
What Is Product Management?
Product management in short is taking care of the competitiveness of the product or service. The things that it requires, depend entirely on what stage of the product's life cycle we are in. When developing new products, product management emphasizes itself into product design, in other words understanding the needs of the market or the customer and strategic decisions on what the company should develop. For products that already exist, marketing is essential for success, to which product positioning, strategic pricing and understanding customer buying behavior belong into. 
Creating a business strategy, taking care of different versions of products and many other things that are related competitiveness that we go through in this page all belong to product management. 
Product design is done for the user
What happens to the product in development when the user is not defined? Yes: the designer or coder decides the solutions to as they best see fit (i.e. prepares the product to himself). Well, does the designer represent typical users with his needs or technical knowledge? In the B2B business we can generalize that this never, if they do it is very rare. Product management brings a systematic way to deal with customers problems or needs, and gives communication tools to better understand the customers. Customer understanding allows us to confirm the easy use of the product with the point of view from the users. 
With product design we confirm that the product in development meet the expectations of the customers.
Product marketing is done for the buyer. 
Even the world's best product won't sell if the customers don't know about it. Even if the customers were to be reached, they wouldn't buy the product if they wouldn't understand what value it brought to them. Product management methods set the base for product marketing: What does the product do = Value proposition, who is it sold to = Customer segmentation and how are we positioned compared to our competitors = positioning. When product marketing has been done accordingly it is quite easy to do marketing: the message is just sent to the correct channels where it is best suited. Making buying easy also increases sales.
Product marketing makes buying easy. 
Product management should always business-oriented. The underlying purpose of products and services should be to provide the customer with value that is financially measurable.
Product Management Fields
The house of product management is a reference model for product management
Product management consists of a multitde of activities, that normally tie themselves to the life cycle of the product and market. Only in the case of some products do people think if the product should be developed at all (market opportunity), In the case of others, people wonder what should they be developed to (product design) and in the third case, the focus is on taking over a share of the market (product marketing). Every single product that has made its way in to the market requires life cycle management to optimize the value provided for the company (life cycle management). So that you will succeed as a whole, all this should me managed with product strategy. 
The house of product management describes all these different fields of product management and the most important tasks related to each field.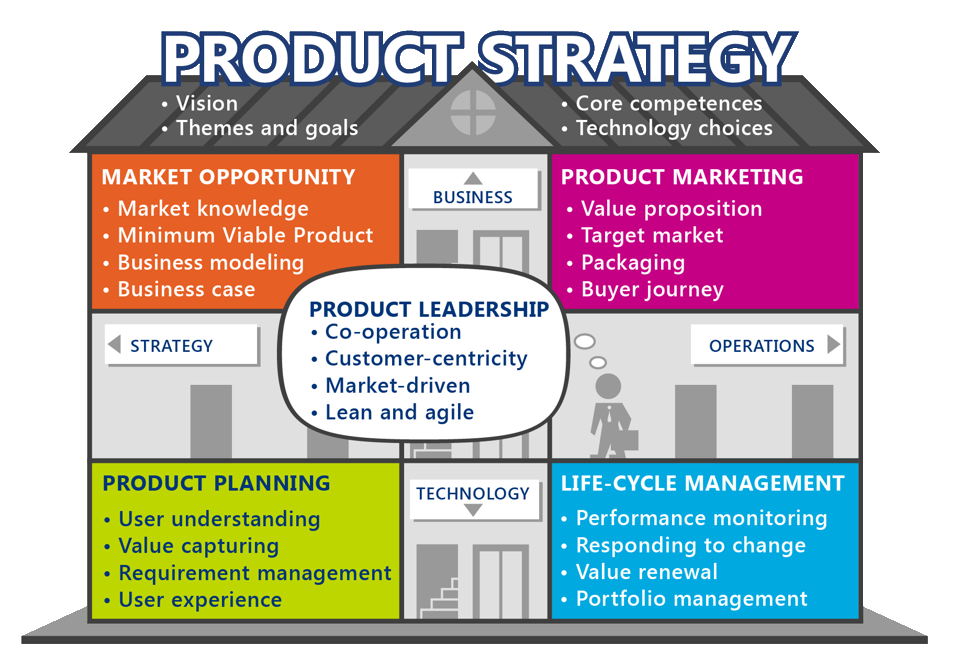 Product Strategy Paves The Way
Product strategy is a concrete plan on how to develop the offering, so that companies can achieve their goals strategically. The product strategy should be in line with other strategy components like: technology strategy, market strategy. The product strategy can be depicted in the long run roadmap (link to a short video about the subject).
Product strategy paves the way for the future and opportunity to achieve the set goals. 
Market Opportunity
Market opportunity includes work upon which best ideas are evaluated for business opportunity assessment. Market opportunity depicts the rationality of the product idea for example in the form of business cases. The most important fields for market opportunity analysis are market understanding, customer understanding, customer value validation and business model. 
A market opportunity always has its uncertainties, and our source data isn't even 80% correct. Therefore finding out the market potential experiments and active learning are highlighted. The Lean start-up movement has brought us good models for market opportunity analysis.  
Tuotemarkkinointi
Tuotemarkkinoinnilla pyritään viestimään tuotteesta kohderyhmää eli ostajia kiinnostavasti. Arvolupaus on tuotemarkkinoinnin konkreettinen tuotos, jota joudutaan usein räätälöimään eri kohderyhmiä varten. Jotta varsinainen markkinointi helpottuisi, tuotemarkkinointiin kuuluu myös ostajaryhmien segmentointi niin, että samaa viestiä voidaan monistaa suurelle määrälle innokkaita ostajia. Vähääkään suuremmassa organisaatiossa tuotemarkkinointia tarvitsee tehdä ensin sisäisesti, jotta sidosryhmät, kuten vaikka myynti, kiinnostuvat uudesta tuotteesta. Tuotemarkkinointi korostuu lanseerausvaiheessa, mutta jatkuu koko tuotteen elinajan. Kun tuotemarkkinointi on tehty oikein, tuotteet on helppo löytää ja ostaa.
Tuotesuunnittelu tuotejohtamisen osana keskittyy ratkaisun löytämiseen annettuun ongelmaan tai tarpeeseen. Tuotteet suunnitellaan niiden käyttäjille. Kaikkien tuotteiden tulee ratkaista jokin tarve tai ongelma, eli tuottaa arvoa. Niiden pitää myös olla käytettäviä ja mahdollisia toteuttaa. Usein kehitysresurssit ovat rajattuja, joten tuoteominaisuuksien priorisointi nousee tärkeään osaan, kun kaikkea ei voida toimittaa kerralla. Tuotejohtamisesta puhuttaessa tuotesuunnittelun tärkein osa on ymmärtää keitä käyttäjät ovat, mitä ongelmaa heille ratkaistaan ja missä tilanteessa. Tuotesuunnittelu alkaa jo ennen tuotekehityksen varsinaista aloittamista ja jatkuu koko tuotteen aktiivisen kehityksen ajan.
Elinkaarenhallinta
Tuotteen elinkaaren hallinnalla pyritään maksimoimaan tuotteen tai palvelun arvo yritykselle. Elinkaarenhallinta on käytännössä jo olemassa olevien tuotteiden tukemista, niiden kilpailukyvyn ylläpitoa ja myyntiä tukevia aktiviteetteja. Tuotteen elinkaaren hallinta alkaa viimeistään lanseerauksessa ja jatkuu tuotteen lopettamiseen asti. Hyvän otteen tuotteen elinkaaren hallintaan saa tutustumalla elinkaarimalleihin, joista esimerkiksi Geoffrey Moore on kirjoittanut klassisen kirjan nimeltä Crossing the chasm.
Antin tietoiskut tuotejohtamisen osa-alueista
Contribyten vanhempi konsultti Antti Suvanto on tuotejohtamisen konkari. Katso Antin tekemät tietoiskut tuotejohtamisen eri osa-alueista.
Contribyten Youtube-kanavalta löydät Tuotejohtamisen soittolistan ja kymmeniä tuotejohtamista käsitteleviä videoita webinaareista käytännön oppeihin.
Ja paras tapa hankkia vahva pohja tuotejohtamisen osaamiselle on osallistua Tuotejohtaminen 2.0 koulutukseen.
Tuotejohtaminen on tiimityötä. Tuotejohtaja ottaa vastuuta sekä näyttää suuntaa ja esimerkkiä.
Tuloksekas tuotejohtaminen perustuu:
Toimivaan yhteistyöhön sidosryhmien kanssa. Tuotejohtajalla ei ole muodollista valtaa, vaan hän motivoi esimerkillään ja  auttamalla muita tarpeen mukaan.
Asiakaslähtöisyyteen, tuotejohtaja pitää asiakkaidensa puolta organisaatiossa. Asiakkaat ovat se markkinoiden osa, jonka yritys on valinnut kohderyhmäkseen.
Liiketoimintaohjautuvuuteen. Oma liiketoiminta ja talous on pidettävä kunnossa, muuten rahat eivät riitä tuotteiden kehittämiseen.
Ketterään ja kokeilevaan toimintakulttuuriin, missä vastaukset haetaan tiedonlähteiltä eikä jäädä omaan poteroon niitä miettimään.
Kenen toimenkuvaan tuotejohtaminen kuuluu?
Pienessä yrityksessä (esim. start-up, pieni perheyritys) tuotejohtaminen on toimitusjohtajan tai jonkun perustajan harteilla. Yrityksen kasvaessa vastuu voi jakautua osa-alueen mukaan tuotekehityksen, teknologian ja markkinoinnin harteille. Ennen pitkää palkataan tuotepäällikkö, joka ottaa vastuun tuotejohtamisesta. Kun tuotepäälliköitä on monta saatetaan nimittää tuotejohtaja. Tuotejohtajan titteli on kuitenkin harvinainen, sillä moni tuotepäällikkö raportoi liiketoiminnasta vastaaville. Katso täältä mitä tuotepäällikkö tekee.
Miten opit tuotejohtamisen perusteet ?
Tuotepäällikön taitoja voi opetella työssä, lukemalla kirjallisuutta ja osallistumalla alan tapahtumiin. Nopeimmin roolin, tarvittavat taidot ja työkalut oppii   osallistumalla ajankäytöltään tiiviille Tuotejohtaminen 2.0 kurssille.
Tuotejohtaminen 2.0 kurssin esittely
Tuotejohtajan tärkeimmät sidosryhmät

Yrityksen johto
Ylintä johtoa tuotejohtaja auttaa tekemällä tuotestrategian ja jakamalla asiakas/markkinatietouttaan yrityksen strategia työssä käytettäväksi.

Tuotekehitys
Tuotekehitykselle tuotejohtaja kommunikoi selkeästi asiakas/markkinatarpeet (mitä ongelmaa ratkaistaan)  ja auttaa priorisoimaan kehitystä. Tuotekehitys vastaa teknisistä ratkaisuista ja toteuttaa tuotteet.

Markkinointi
Tuotejohtaja on tuotteensa markkinan asiantuntija ja tuottaa raaka-aineet (segmentit, positiointi, arvolupaus) markkinointi teamin käyttöön. Markkinointi muokkaa materiaalin kohderyhmän tarpeita vastaavaksi ja monistaa viestin sopiviin kanaviin.

Myynti
Tuotejohtaja tuottaa myynnin tarvitsemat työkalut oman tuotteensa myyntiin. Niitä voi olla mm. esitteet, laskurit (joilla tuotteen hyödyt saadaan näkymään), tuotekortit, asiakasreferenssi tarinat ja demovideot.
Tarvitsetko apua tuotejohtamiseen? Kerro meille miten voimme auttaa.